For older adults and their families, long-term care can be beneficial but may be difficult to pay for. Many individuals plan ahead and invest in long-term care insurance, but they are unsure when to use it. Our long-term care experts at Senior Home Companions in Central Indiana and Southwest Florida can help your family navigate any confusing terms of your insurance and help you gain access to the benefits for which you have paid.
What is Long-Term Care Insurance?
Long-term care insurance is a policy that goes above and beyond typical health insurance. It can assist adults who are in need of care for a chronic medical condition, physical or mental disability or disorders like Alzheimer's disease. Your policy will help cover personal assistance services like those offered at Senior Home Companions, such as grooming, bathing and other day-to-day care.
When Should I Use My Insurance?
Many older adults who have purchased a long-term care insurance policy will delay using their benefits, opting to "save them until they really need them." Your insurance policy should cover not only care in a nursing home or assisted living facility, but also support at home from a companion caregiver like our trained professionals at SHC. If you or your spouse require in-home assistance beyond what you or a family member can provide, now may very well be the time to begin your insurance coverage.
When Does My Long-Term Care Coverage Begin?
Oftentimes when you wish to instate your long-term care insurance, there is an elimination period of anywhere from 30-90 days of consecutively receiving services before official coverage can begin. These confusing terms of your coverage may make it difficult to begin or sustain in-home care before your insurance begins supporting your needs.
How Can SHC Help Me Access My Benefits?
At Senior Home Companions, our team of long-term care experts can help you apply our in-home services to your elimination period, which will ensure you quicker access to your benefits. In addition, once you access your coverage, your monthly or annual premium is waived – even if you only receive a few hours of care each week.
Our leadership team, headed by President David Morgan, can also help your family discuss difficult care and insurance decisions with our Family Matters Counseling. We will provide you with an opportunity to lovingly address important topics with aging loved ones, such as legal relationships, shared responsibilities among adult children and future living arrangements.
---
Long-Term Care Extends Independence: Meet Alex and Marilyn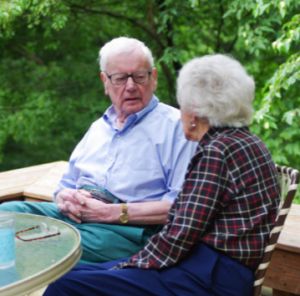 When one half of a long-married couple begins experiencing memory loss, it can create stress and strain on the relationship. That very scenario was playing out for Alex and Marilyn, as she developed increasing memory issues. Their once very active life slowed as Alex attempted to care for both their home and his wife.
Through Senior Home Companions' long-term-care experts, the couple was able to access their benefits when they needed them. Alex was able to enjoy time with Marilyn while they received assistance with shopping, housework and landscaping. He rekindled friendships and resumed his activities, knowing Marilyn was well cared for by Senior Home Companions caregivers during brief respites – all services paid for by their long-term care benefits.
If you are in need of in-home care and wish to begin accessing your long-term care insurance, the professionals at Senior Home Companions are here to help. Contact us today for a free consultation to discuss the needs of you and your family.