Looking into in-home care for yourself or a loved one? Confused about the cost of in-home care for the elderly? You're not alone. As more and more Americans pass age 65, interest in services that enhance the aging and elderly's quality of living has skyrocketed. 
Today, we're going to help simplify this complicated topic by comparing in-home care and nursing homes, digging into the costs of in-home care in various regions across the U.S., and providing insights aging adults and their loved ones can use to bring clarity to their research journey. 
Ready to get started? Read on!
What Is It Called When You Take Care of the Elderly at Home?
Taking care of older adults at home is often referred to as "in-home care" or "home health care." 
In-home care has become an increasingly popular solution for seniors who want to age in place and enjoy their independence while still receiving the support they need to lead happy, healthy, and fulfilling lives.
Why Is Home Care Better Than a Nursing Home?
There are a number of reasons 77% of Americans over 65 say they want to remain in their homes as they age. Chief among them are: 
The comfort of familiar surroundings

Increased access to personalized care

Decreased disruptions to their day-to-day routines

And cost savings compared to conventional nursing homes.
Let's look at each of these benefits from comparing home care to nursing homes research a bit closer.
Familiar Surroundings

Moving is one of the most stressful events in life. Forcing an older adult to move away from the familiar surroundings of their home can significantly increase stress and anxiety levels — not to mention isolation, loneliness, and even depression.
Opting for in-home care means older adults can receive the care and support they need while sleeping in their own bed, using their own bathroom, and enjoying the privacy they've become accustomed to over the years. These small comforts combine to create a big impact on mental wellness.
Personalized Care

In-home care specialists are there to make life easier, no matter what that entails. This might involve assistance with everyday tasks like bathing, getting dressed, or preparing meals.
For those needing more specialized help, it could include support with getting around, providing transportation for errands and appointments, or even offering companionship to combat loneliness. The goal is to ensure that you or your loved one can tackle any challenges that arise, with tailored services readily available to help navigate through them.

Savings

The cost of in-home care is typically charged by the hour, which means you only pay for the care you need and receive. On the other hand, nursing homes charge flat monthly or annual rates that don't account for the level of care required.
Nursing homes also charge significant room and board fees – over $100,000/year on average for seniors that want a private room. Opting for in-home care eliminates this financial burden entirely, leaving more funds for care and other quality-of-life improvements.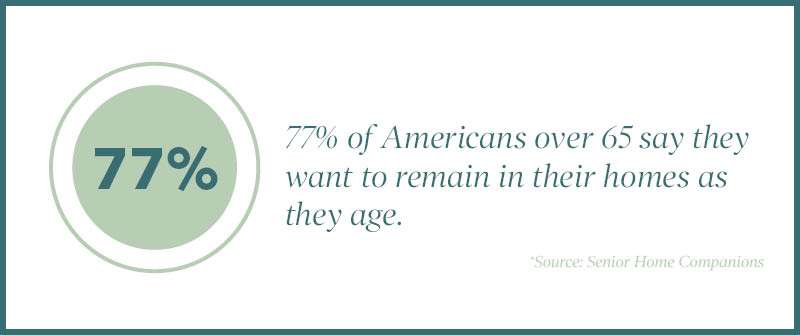 What Is the Average Cost of In-Home Care in the United States?
Understanding the average cost of in-home care in the United States can help frame your search for an in-home care provider. 
However, it's important to remember that significant cost differences between states, urban and rural regions, and other market differentiators should be expected. For the most accurate information regarding average cost in your area, we always recommend contacting local care providers and inquiring about their pricing structure. 
How Much Does a Caregiver Cost Per Hour for In-home Care Services?
An in-home caregiver costs $32 per hour on average in the United States. This translates to an average caregiver cost per day of roughly $256. With that said, there are significant differences in cost depending on geographical location. 
For example, in-home care in West Virginia is $10 cheaper per hour compared to the national average of $22 per hour. Minnesota, on the other hand, has an average hourly rate that's $4.25 higher than the national average, with a $36.25 caregiver cost per hour.
How Much Does In-Home Care Cost Per Month?
The average monthly cost of in-home care in the United States is $5,200 per month. 
While this figure may seem high at first glance, it's important to note this figure is for 24-hour care for the elderly in their own home or live-in caregiver cost. Most older adults that choose in-home care do not need constant care, so their monthly costs tend to be much lower.
Home health care costs by state vary wildly. The cheapest monthly cost for in-home care can be found in West Virginia, with an average cost of $3,500 per month. Minnesota leads the country with an average cost of more than $7,000 – almost 30% higher than the national average.
How Much Is Home Care in Indiana?
The cost of in-home care in Indiana beats the national average at $4,800 per month. This translates to an hourly wage of roughly $30, compared to the national average of $32.50.
The affordable cost of in-home care in Indiana means that more than 1,000,000 Indianans over the age of 65 will enjoy strong access to the care and support they need to age gracefully and in place.
How Much Is Home Care for the Elderly in Florida?
Good news for seniors in Florida! Just like Indiana, the Sunshine State offers in-home care at a more affordable rate than the national average. You can expect to pay around $4,800 per month or approximately $30 per hour for in-home care services.
How Can Senior Home Companions Help with In-Home Health Care Aides and Assisted Living Communities?
Considering in-home care and curious about the costs? 
Our 30+ years of experience are just a phone call away! At Senior Home Companions, we're passionate about providing high-quality care, knowledge, and support aging individuals and their families need to thrive. Assisted living communities can be a good option, but they don't always provide the comforts of living at home. At Senior Home Care, we combine the best parts of skilled nursing care, an assisted living facility, home health aides, medical care, and personal care services to provide a truly unique experience. Family members can rest assured that their loved ones are receiving the best around-the-clock care and medical services, all with the comforts of at-home care.
Contact us today to learn more about the average costs of in-home care services.