With the population of elderly senior citizens increasing in the United States today, the demand for dedicated and empathetic caregiving options is reaching unprecedented levels. Consider this: according to recent statistics, the number of individuals aged 65 and older is set to double in the next two decades. Families, while eager to provide the best care for their aging loved ones, often find themselves grappling with limited resources, challenging decisions, and the complexities of understanding the available care options. One such option growing in popularity and often overlooked is day sitting for the elderly. But what exactly is it, and how can it benefit your loved one?
In this guide, we'll delve deep into the world of senior sitters, unpacking their services, the costs involved, and other vital in-home companion care options you should consider for your elderly loved ones.
What Kind of Help Does an Elderly Person Need?
Getting older comes with challenges, from loss of mobility to declining cognitive function to an increasing feeling of loneliness, to name a few. That's why it is so valuable and necessary for people to step up into the generous roles of caregivers and senior sitters. A few kinds of help that older adults often need include:
Assistance with activities of daily living (ADLs)

Companionship and social interaction

Transportation

Medication reminders

Housekeeping

Engaging in hobbies

Emergency Preparedness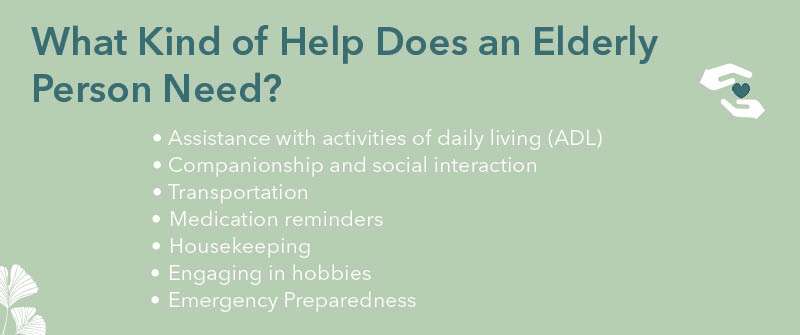 What Services Do Seniors Need Most from Senior Sitter Services? Is Emotional Support One of Them?
Many people agree with the foundations of Maslow's hierarchy of needs, which states that humans need to get their most basic physiological and safety needs (food, shelter, security, etc.) met before they can pursue meeting their other needs, such as social and self-esteem. Following that line of thinking, it's priority number one to keep our seniors safe, sheltered, fed, and taken care of, either in their homes or in a care facility. From there, what they generally need most is companionship, friendship, and social interaction to meet the needs of belonging. 
What Is a Sitter for the Elderly?
Elderly companions, elderly sitters, or private sitters for the elderly are all terms for individuals who help provide important non-medical care, such as companionship and general assistance to elderly people. The exact duties of a sitter for the elderly will vary according to the needs of the individual. Ultimately, a compassionate caregiver aims to support the well-being and safety of the elderly while providing social interaction, stimulation, and support.
What Does an Old Sitter Do?
Senior companions or "old sitters" fulfill many functions for the elderly individual(s) that they support. Here are some of the common responsibilities that elderly sitters take on:
Companionship.

Listening to the individual, engaging in conversations, and providing empathy and emotional support.

Social activities.

Because elderly individuals often experience loneliness, a big role of old sitters is to engage them with planned activities and opportunities for interaction.

Meal preparation.

Preparing meals that align with the individual's tastes and help them reach nutritional goals.

Light housekeeping.

Doing easy and helpful household tasks such as organizing or tidying up.

Safety monitoring. Remaining attentive to the individual's safety is paramount. Sometimes, documentation of daily activities and medications is also expected of a senior sitter.
What Is the Difference Between Senior Sitters and a Caregiver?
Both senior sitters and caregivers provide emotional support and general life assistance. However, caregivers generally provide a broader range of care, placing more attention on assistance with an elderly individual's ADLs, which include things like bathing, toileting, dressing, grooming, and feeding. Caregivers are also trained for the job of caring for individuals and are almost always CPR-certified. Some are even a certified nursing assistant as well. Senior sitters typically provide less hands-on care, with their primary focus being companionship, emotional support, and other forms of non-medical care.
Which Is Better, Caregiver or Caretaker?
While there is a difference between a senior sitter and a caregiver, generally, "caregiver" and "caretaker" are two terms that can be used interchangeably. They usually both refer to the same kind of role, which provides care and support to individuals in need. So, there isn't necessarily a better option between the two, and the choice of who you hire to take care of an elderly individual or loved one will depend on their preferences and needed scope of care.
How Much Does an Elderly Sitter Cost?
Elderly sitter costs range based on the schedule and level of care required for your loved one. In general, the hourly rate for elderly sitters is currently around $10–$20 per hour. The daily rate for most home care agencies ranges from about $200 to $350 per day. There are also options for overnight elderly sitters, which are generally priced similarly.
What Services Are Available to the Elderly?
Beyond the incredible individual help that people like senior helpers can provide, there are also external services available to the elderly that can help them maintain their well-being. There are even some free resources for elderly people to take advantage of. Here's a list of list of community resources for elderly individuals:
Local

area agencies on aging

which share information and advocacy for the elderly

Local senior centers, which provide resources and social connection

AARP

, whose membership offers discounts, free financial advice, and a monthly magazine

Longer-term care, like nursing care or assisted living facilities

Senior companions and sitters
What Do Companions Do for the Elderly?
As we've covered, there's a lot that different kinds of companions can do for elderly individuals in their lives. Companion care is an often underestimated option for seniors, bringing together practical assistance with day-to-day tasks and the excitement and engagement of genuine companionship.
From providing daily housekeeping support, transportation, and help with their space to providing emotional support and good conversation through daily social interactions, senior companions help the individuals and families they work with in a multi-faceted and powerful way. 

Ultimately, companions to the elderly provide friendship, helping our loved ones alleviate feelings of loneliness and social isolation that elderly people can so often experience—and helping them keep up their sense of independence, a feeling of being emotionally supported, and overall well-being.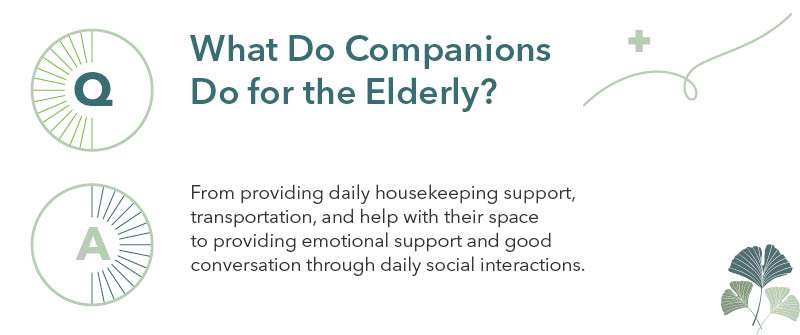 Senior Home Companions Helps Family Members Care For Their Elderly Loved One
Senior Home Companions provides all types of in-home services, including tailored companion care, so your elderly parent and other loved ones can enjoy their golden years in the familiar surroundings of their own home.
Our offices in Indianapolis, Lafayette, and Central Florida would be happy to discuss your family's options. As a privately owned company, we are dedicated to serving with integrity, effectiveness, and compassion. It's what we would want for our parents and grandparents, and we believe your loved ones deserve the same. Contact us today for your free consultation.