As a Lead Client Coordinator at Senior Home Companions (SHC), Emily Middlesworth enjoys working with our companion caregivers and their clients. She has served in this role for seven months, and has found that the job entails talking to lots of people and making lots of calls! She loves helping others and matching caregivers with clients to the best of her ability.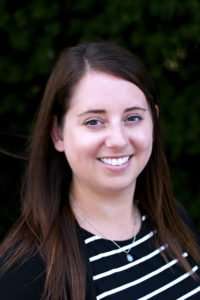 One of Emily's favorite services that SHC provides is taking our clients out to fun activities, like shopping or going out to eat. This is reflected in her joy of being outside in the sunshine, especially in the summer. Here in Central Indiana, she likes to take her dogs, Sophie and Wrigley, to go hiking at Turkey Run State Park. She also enjoys yoga, reading and kicking off her days with "lots and lots of coffee!"
Emily has lived in Indianapolis all her life, and is very close to her family who live nearby, including four brothers and sisters. Her big family surely helped to teach her compassion, which she indicates as the key component to the caregiving field.
The most influential person at SHC to Emily has been Anne, her Client Services Manager (CSM). She said, "Anne has been doing this job for a long time, and she has taught me a lot. She is one of the most compassionate people I know."
We're so happy to have Emily on the Senior Home Companions team!