Did you know that older adults are at increased risk for social isolation? With the help of the caregiver team at Senior Home Companions, we can help your loved one ease the loneliness that can come with aging. Our wide variety of personalized services can help older adults maintain a sense of purpose and boost self-esteem while staying safe and sound at home. 
How Companionship Can Help
According to the National Institute on Aging, social isolation and loneliness are linked to expediting many of the chronic conditions that seniors may already have, including high blood pressure, heart disease, obesity, a weakened immune system, anxiety, depression and cognitive decline. With the companionship of an in-home caregiver, isolation is reduced, as well as the associated health risks. 
Individualized Home Companion Care
An SHC companion caregiver can provide older adults living at home with day-to-day care at the level that they require. Our non-medical care includes transportation and accompaniment to appointments/errands, laundry and light housekeeping, assisting with bathroom and grooming needs, and meal planning/preparation. Additional support services include handyman home maintenance, assisted living and hospice care, rehab support and more. 
Staying Engaged to Prevent Loneliness
While it's easy to see the benefit of daily caregiver assistance, the good that comes from engaging with a companion is invaluable for seniors. SHC caregivers can take part in hobbies or games with your aging loved ones, encourage exercise and regular activity, and help them stay connected with friends and family. Especially in light of our current health situation, the companionship of a caregiver will offer seniors a sense of comfort while safe at home.
Matching Clients with Companions
Many of our senior clients come to view our SHC caregivers as a trusted member of the family. We work hard to match the personality of our clients with the best caregiver for every individual situation. We provide long-term client/caregiver relationships by considering the strengths and schedules of each caregiver, in order to provide your loved one with consistent and exceptional care.
Respite Care for Family Caregivers
Are you and/or your family providing primary care for an older adult? Remember that you need to take time for yourself as well. If you are concerned about companionship for your aging loved one while away, SHC offers respite care options ranging from a few hours a week to a multi-day trip. We will ensure that your loved one receives the same high caliber of services and companionship, no matter how long our visit with them.
---
Living Life to the Fullest: Meet Mary & Rebecca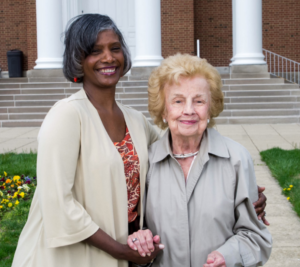 Mary's husband, who was also her caregiver and confidant, passed away. She deeply wanted to stay in the home that they had lovingly shared and remain engaged within her community. She feared that without him she would not be able to maintain their once active lifestyle.
Through Senior Home Companions, Mary's heartfelt desires were realized. Her dedicated caregiver, Rebecca, has been able to help her remain lively and active and continue to live life to the fullest. Mary has even taken up the new hobbies of jewelry making and bird watching! Mary's story is just one of many stories we've had the privilege to help create for over 25 years.
If you are ready to find a companion for your aging loved one, contact our offices in Southwest Florida or Central Indiana today!