The former first lady of the United States, Rosalynn Carter, once said: "There are only four kinds of people in this world: those who have been a caregiver, those who are currently caregivers, those who will be caregivers, and those who will need a caregiver."
Let's go over some important aspects of the crucial role of caregiving and answer common questions so that you can gain an understanding of the different caregiver options available for the elderly.
What Is Caregiving?
Caregiving refers to the practice of providing physical, emotional, medical, and logistical support to someone incapable of caring for themselves. Whether it be due to age, injury, disability, or illness, when an individual can no longer fully take care of themselves, it often becomes necessary to hire a caregiver to assist them—as well as have family members step up to support their care. Many families also choose to hire a companion caregiver, a non-medical assistant who provides other forms of support through in-home companion care.
Who Is Classified as a Caregiver?
Any individual who provides consistent support to someone who is unable to care for themselves can be considered a caregiver. Some caregivers are professionals who have been trained to provide care services, often working in healthcare settings like hospitals or psych wards. Others are family members and friends who've stepped up to take on caregiving responsibilities for a loved one. Either way, caregivers play a crucial role in supporting the well-being of those in need of livelihood assistance.
What Are 4 Types of Caregivers for Elderly Folks?
There are multiple kinds of caregivers available to support those in need. Here are 4 types of caregivers commonly seen: 
Professional caregivers.

Individuals trained and employed to provide care services are known as professional caregivers. This can include nurses, certified nursing assistants, home health aides, physical therapists, and more. This individual is sometimes referred to as an independent caregiver.

Family caregivers.

It is very common for family members of individuals in need to take on caring for their loved ones. Often spouses, children, siblings, or even parents will voluntarily support their loved one either primarily or alongside a professional caregiver.

Volunteer caregivers.

Another treasured type of caregiver are volunteer caregivers, people who provide regular, unpaid support to those in need of caregiving services, whether through an organization or independently.

Informal caregivers. Finally, informal caregivers are anyone who offers to help out with caregiving and companionship even without formal training. Some common informal caregiver examples include day sitters for the elderly, friends and neighbors.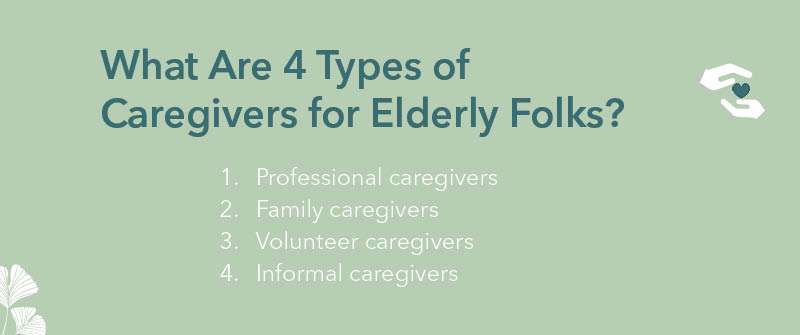 Examples of Caregivers?
Caregivers do not come one-size-fits-all. There is no one perfect picture of what one looks like or what their background is. As we've just covered, many kinds of people step up to provide support and assistance to those in need. A few examples of caregivers include:
A son caring for his elderly mother with dementia.

An in-home caregiver employed by a home care agency to work with aging adults.

A neighbor who regularly checks in on their elderly friend and helps with grocery runs.

A volunteer driver who transports seniors to and from their medical appointments.

A physical therapist helps someone recover from a serious injury. 

An adult child living away from their parent helps coordinate their appointments from afar.

A personal care attendant is hired to assist someone with their ADLs (activities of daily living).
What Is an Example of a Caregiver Task for a Private Duty Caregiver?
Independent caregivers (or private duty caregivers) will have tasks that typically vary from day to day based on the needs of the individual receiving care.
Still, there are some common roles of a caregiver to a patient, such as medication reminders and management, grooming and dressing, and transportation to and from appointments. Another example of a common caregiver task is helping an elderly individual with limited mobility take a bath and attend to their personal hygiene.
What Are the 5 Levels of Care in Assisted Living Facilities?
In-home companion care works for many families, but for some individuals, a more intensive care solution, such as assisted living facilities, which provide a range of care services to support their residents, will make more sense. Here are the five levels of care in assisted living:
Basic residential care:

This level of care is intended for residents who are still relatively independent and don't need significant assistance with their ADLs.

Personal care:

A slight step up, this refers to a level of care that provides some help with things like ADLs, dressing and grooming, or meal preparation, to name a few.

Enhanced personal care:

For patients who require significant assistance with their ADLs, enhanced personal care is probably a suitable level for them.

Memory care:

Some assisted living facilities have units that cater to individuals with memory impairments, providing specialized routines and expertise for their care.

Skilled nursing care:

This refers to an advanced level of care for patients suffering from complex medical needs.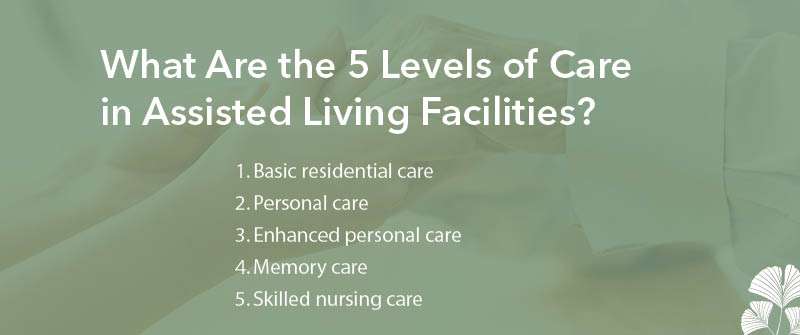 What Are the 4 Skills a Caregiver Should Have?
Caregivers are typically trained professionals and come ready to help people with their specialized knowledge in first aid, CPR, or even dementia care. However, whether trained or not, the position requires patience, empathy, and more to be successful. Here are 4 recommended strengths of a caregiver:
Compassion and empathy.

Effective communication.

Problem-solving.

Patience.
What Is the Difference Between Primary and Secondary Caregivers? What About Family Caregivers?
Two types of professional caregivers include primary and secondary caregivers. These roles refer to different levels of responsibility within a caregiving arrangement. The difference is this: primary caregivers have the highest level of responsibility for an individual's care, whereas secondary caregivers (often family members or friends) aim to provide additional support where they can. So, while primary caregivers are in charge of important decision-making and the most intensive caregiving tasks, secondary caregivers will be more focused on supporting an individual's well-being and providing supplemental care. Find out more about the Average Cost of In Home Care.
On the other hand, a family caregiver is a family member such as a spouse or child who assists in caring for the individual.
How Our Companion Care Services Can Help
Senior Home Companions has been coordinating in-home companionship and caregiving for over 30 years. From helping with daily tasks to providing support during travel, hobbies, and more, companionship at home can provide exceptional personalized care for your loved ones. To learn more about how SHC can help, contact us today.